If you were serving a long-term prison sentence right now, what words or images do you think would come to mind? After this most recent performance at Walker State Faith and Character Based Prison, I asked the prisoners to share two words or themes they wanted connected to the music for the next recital program. (I'll reveal those later!) The words I had chosen for this recent recital were Space and Intent. I picked pieces that exposed elements of space, whether silences or long phrases, and pieces that captured various tones of voice to represent Intent.
When prisoners listen to the music and then share their thoughts, I'm amazed, even inspired, to find new dimensions or interpretations that enhance my own point of view of the music. But it also punctuates how important music is on an individual basis. It's important to encourage minds to go wherever they need to go when listening to the music. The goal is to actively encourage results to vary.
Just like the first prison performance, this performance was a sharing of thoughts and music in both directions: composer to performer to prisoner and then in reverse. It was interesting to find out how important it was to the prisoners that I share their thoughts and interpretations with the living composers.
After playing each piece, we asked what images or stories came to mind. Wireless microphones were handed from one prisoner to another so that each could share thoughts about the pieces we played.
The first piece on the program was a violin solo written by Shawna Wolf. Shawna is studying composition with renowned composer, Anne Guzzo at the University of Wyoming. I have had the pleasure of working with her at composer workshops and retreats. I feel that her work, Mesmerizing Frost on Blades of Grass, captured an evocative and meditative quality. Here are the prisoners' thoughts from her work:
"There was a crescendo and I saw conflict. At the end, I saw the last blade in the frost. It died."
"It was like the indecision of a woman whether to love or not."
"It seemed western-like, like something of Aaron Copland in it."
The second piece, Song of the Birds, arranged for solo cello by Pablo Casals, was performed by cellist Michael Samis. This haunting work brought these personal thoughts:
"I saw forbidden love between two classes of people. They are drawn together by desire and passion, but are forbidden by society."
"This is the beginning, but not the end of a story. I found myself on a trail, making my way, knowing that the end holds paradise."
"There is a child in Jamaica waiting to come to this country. The mother went on ahead with a promise to send for the child. The child is waiting for an airplane to bring him to his mother."
The third piece was the first movement from Duo by Zoltan Kodaly. Michael and I played samples before we performed the entire movement. We wanted to share the various tone of voices and intent in the work. Here's the take on that work:
"There is a decision being made in my mind. Then there is arguing in the mind going over and over again between the good and the bad points. Towards the end comes 'tic-tic-tic' like a timer counting down to the time that decision must be made. I made the right decision."
"It is like going on an adventure in life. There is goodness and sadness."
"A man and a woman are fighting."
Next on the program was a newer work by Mischa Zupko called Eclipse for violin and cello. This work was probably the most talked about work after the recital was over. The concept of the work was to have two voices speaking to each other, over each other, after each other, all while using silence or pauses in evocative ways between the dialogs. What the prisoners shared was powerful but also gave us performers an added dimension to our own interpretations:
"I hear a loon calling, then pausing. Then comes the response. The group of loons squabble. Then they go back to calling out."
"My mother had Alzheimer's. It made me think about her thoughts and memories. Starting and stopping. Then picking up again. I thought about our conversations. Stopping and starting with me having to reintroduce myself again. 'Mom, do you know who I am?' She says, 'I know you are someone from the United States.' (She was from Canada). This has let me think about my last memories of her. They are not sad. The music made me understand her more and what was going on with her."
And interestingly, one of the guests who came into the prison with me had a similar thought about "Eclipse" and sent a private email to me afterwards: "This work touched on thoughts about our son. There has been extreme brokenness in his life. We engage, then he unexpectedly disappears for days, creating great anxiety. He has cut himself off from us for months and months at a time. These are the sudden quiet spaces in your music. Each time the music started again, it was not where you left off. The conversation did not continue smoothly nor were the circumstances at the new starting point in anyway similar to the circumstances to what they were when you left off. This is our life with our son."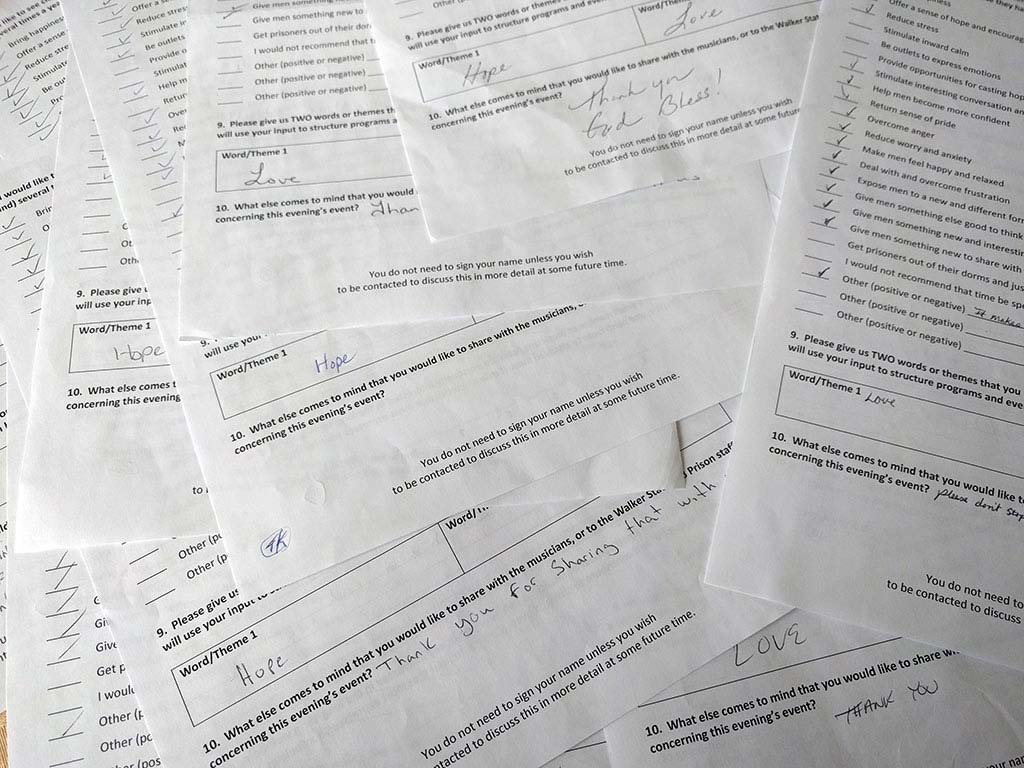 In reviewing the surveys that we asked the prisoners to fill out, once again they shared that it was extremely important to have a chance to share their opinions or thoughts about the works. But another point that came to light was that live performance was much more important than just hearing recordings. The prisoners consistently shared that they valued the connection they felt just by watching performers communicate while playing. Small nods, facial expressions, breaths together, and synchronized bowing added an important impact that communicated more effectively than a recording could. It also made it real and sincere, two things in very short supply on the inside prison walls.
I am now planning the next recital. Collecting the prisoners' most requested words yielded a nice surprise. I was expecting they would request words or themes like Redemption or Reconciliation or Loneliness. But the most requested words/themes were….Love and Hope.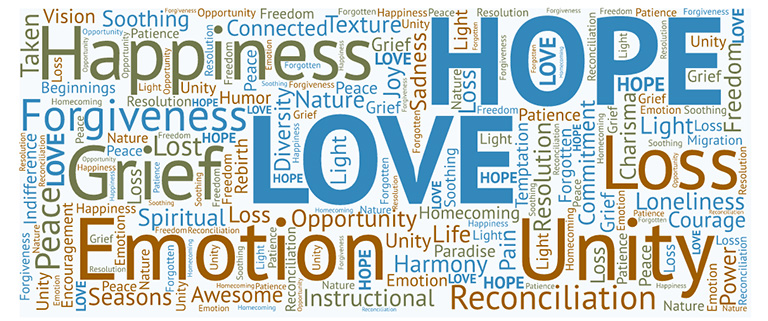 Love and Hope are what we all need as humans. I'm considering pieces I'd like to use and composers I'd like to spotlight. But I know in planning a musical offering of Love and Hope, interacting with the inmates — watching them be real and sincere, I will likely walk away from the prison with an even more profound sense of the words and the music.